Garbanzo Mediterranean Grill
Project Summary
Garbanzo Mediterranean Grill is a national fast-casual restaurant concept featuring healthy, delicious meals inspired by favorite street foods of the Mediterranean. Ready for a concept update, Garbanzo asked Vertetude to design a new restaurant interior to represent the brand in a warm, inviting, youthful way in an urban location.
A great restaurant concept starts with the food and great restaurant design elevates and enhances the dining experience. The food of the Mediterranean is vibrant and beautiful so we matched all of the paint colors to the spices and key ingredients in the menu.
Herbal greens, warm spices and tasty staple colors brighten up the space with a fresh, modern twist. Then we added textures, patterns and motifs inspired by modern city life. We interpreted dynamic street scenes and outdoor spaces through urban grids, patterns made of street reflectors and graffiti-style lettering to jazz up this urban fast-casual concept.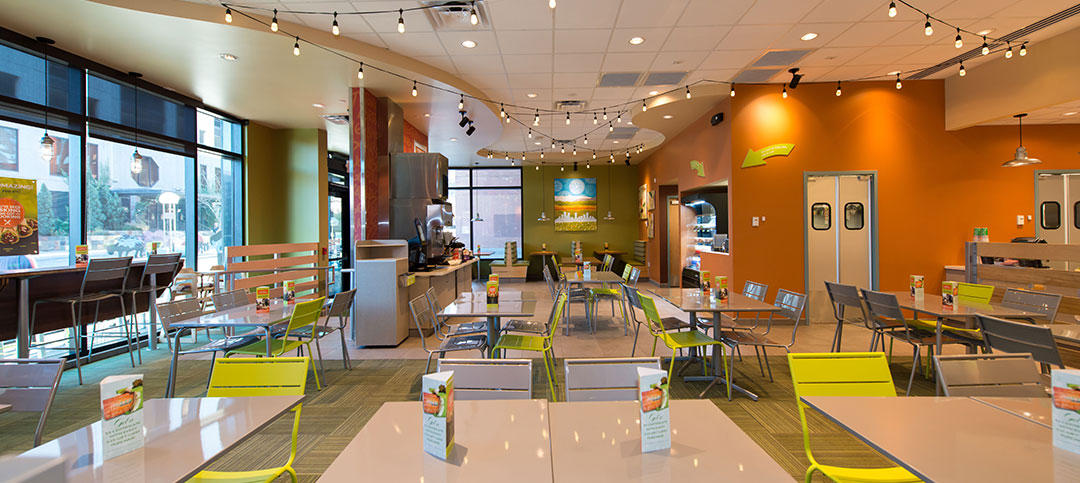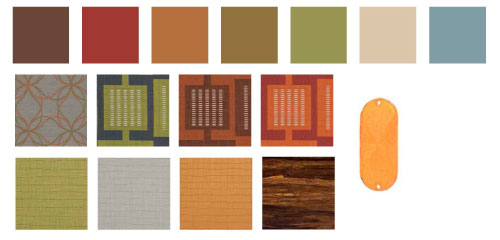 Colorway – Cityscape
This color palette is inspired both by the food itself and the color and rhythm of the city. A delicious combination of colors matched to menu ingredients spice up the dining room and guest areas. The foundation of the palette begins with the grey sidewalk and the green of freshly mown lawn under metallic outdoor tables and chairs.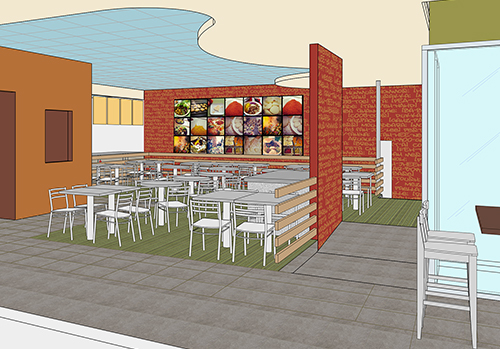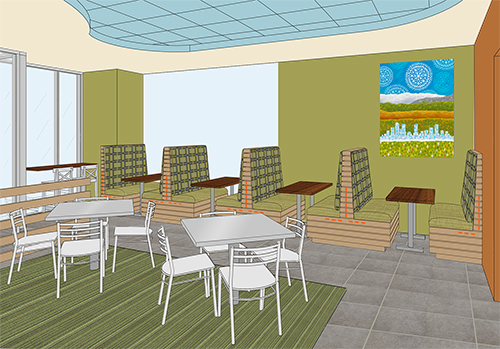 Artwork
Original artwork contributes a unique voice to a brand's story. We use focal art to decorate the space, adding color and drama while conveying key brand values and messages. Garbanzo celebrates Denver—its fresh, modern, outdoor-focused hometown. Fresh, healthful ingredients and Mediterranean flavors add the spark to the menu and the inspiration for the original artwork panels and custom wallpaper we created for Garbanzo.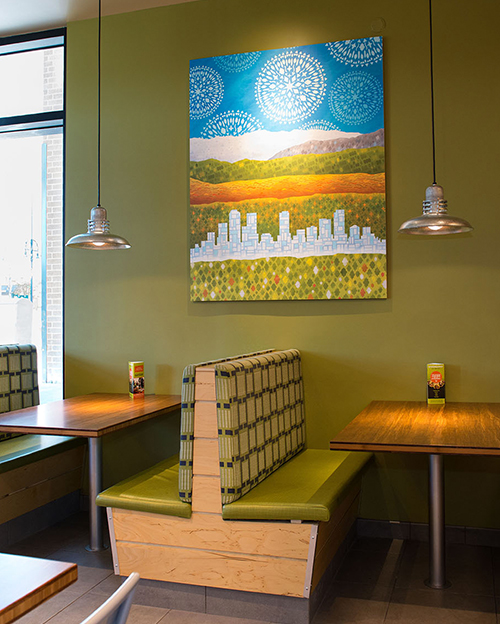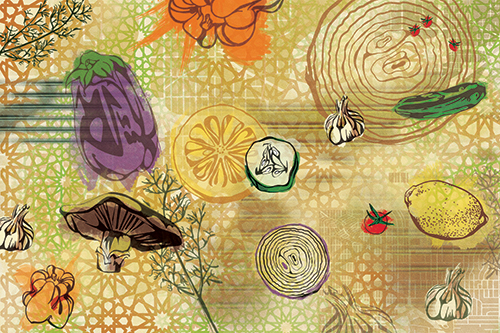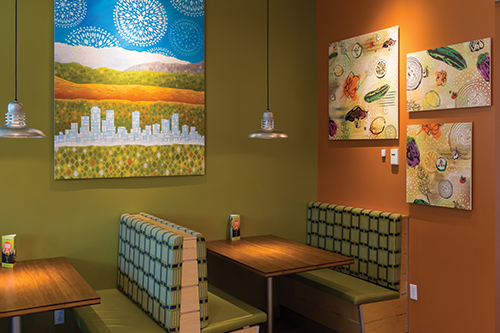 Store Photos
A playful, flavor-packed menu from sunny climes deserves a casual, fun dining space. We used informal outdoor furniture and lighting, slat fence details and carpet tiles that feel like freshly mown grass to enhance the connection between indoor and outdoor dining.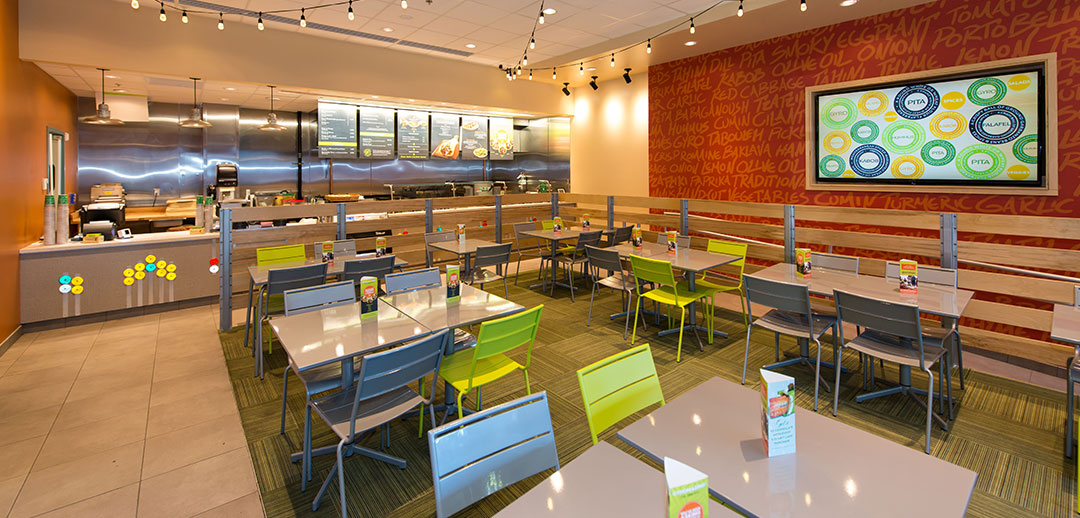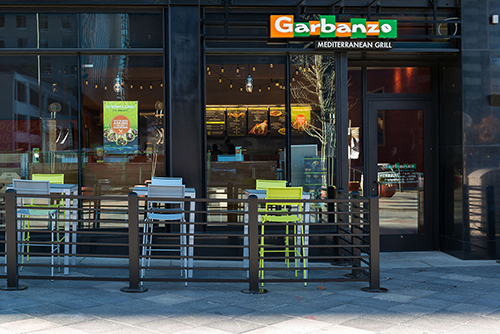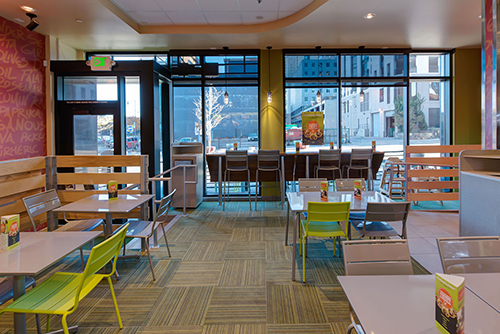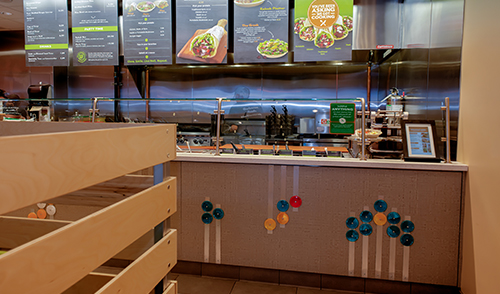 View More Projects