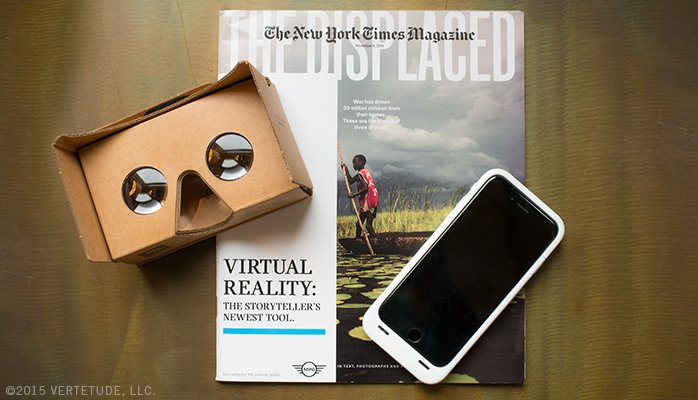 On November 8, 2015, the Sunday New York Times delivered an unexpected and completely engaging experience, proving that the marriage of traditional print publishing with new media technology is relevant, exciting and forward-looking.
The newspaper was wrapped in the usual plastic bag but this time the bag had a pocket, holding a cardboard box. The box wasn't the familiar little product sample of laundry soap or cereal.  The Sunday paper was accompanied by Google Cardboard – a low-tech delivery system for an immersive, 3-D virtual reality experience. Now the print edition of the newspaper is more relevant and valuable since this is a great way to deliver the Google Cardboard device to millions.
By quickly assembling the cardboard device and downloading the NYTVR (New York Times Virtual Reality) app for iOS and Android, I was able to watch a very moving, short 3-D film on my smartphone about children displaced and coping with life in their war-torn countries.
A virtual reality film surrounds you in the story. You can turn your head and see the world around you: the clouds in the sky above you, the gravel under your feet and the children running next to you. It's harder to turn away from the subject and much easier to feel the emotional toll on refugee children and families.
Breakthrough technology and storytelling in an accessible format has the power to heighten our engagement with what matters most. Suddenly, in the context of the recent events in Paris, Belgium, Lebanon, Syria and beyond, it's easier to see how deeper understanding and compassion will help us find our way to a safe and peaceful future.
For the story in the New York Times Magazine and a link to download the app, visit http://www.nytimes.com/2015/11/08/magazine/the-displaced-introduction.html
To get a Google Cardboard:  https://www.google.com/get/cardboard/get-cardboard/